Silvertip Badger Brush Rare Black African English Pewter Inlay Irish Celtic Knot or Irish Trinity by ARTTURI™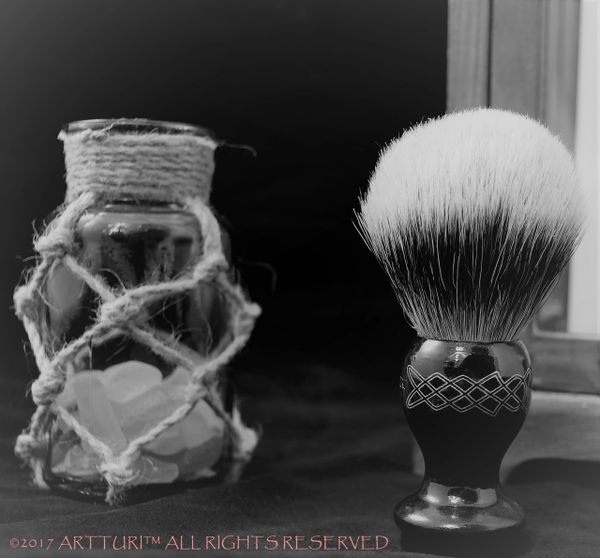 ARTTURI™ Signature Series presents the best wet shave gift set we carry: The Black Ebony Pewter Inlay, Solid Fill Resin-Pewter End Cap, with our 27/67mm signature Silver Tip Badger knot. This incredible design has an exquisite manufacturing history, with nine different countries having input. All final assembly, design, and production for this premium set was completed at ARTTURI™ Chicago. We offer this to the avid collector and shave enthusiast, with the durability to last at least a lifetime, and warrantied for just as long. The customer wins with this purchase, a value we had to share with the public. Complimentary add on products are standard, and a special gift selected by our owner will be included as well.

The Ebony Wood hails from the deep sustainable forests in Africa, and turned in SE Asia (Central India/Sri Lanka or Pakistan).

The pewter is directly from England.

Our classic, luxurious Silver Tip Badger hair knot, was resourced from Russia, China, and remote parts of SW Asia. It's in these locations where the badger is an overpopulated nuisance, destroying habitat and abundant for harvest.

The two thousand year old Irish Celtic Design, was pulled from the Old Country archives of traditional Blarney lore.  A reflection of the owner's part Irish background, it's hand carved and lazed, with final assembly in the United States.
YOUR BRUSH BACKGROUND and COMPOSITION

The Celtic Knot and Trinity Origins

Celtic civilization has long since ceased to exist, but remnants of it can be seen everywhere. There is nothing more striking or apparent regarding Celtic culture, than the Celtic knots.
These knots are complete loops that have no start or finish, and could be said to represent eternity whether this means loyalty, faith, friendship or love. Only one thread is used in each design which symbolizes how life and eternity are interconnected. These complex designs are used as decorative accompaniments to a variety of items including jewellery sets, plates, mugs, clothing and now ARTTURI™ Signature Series shave brushes.
Celtic Knot History
Most information relating to Celtic knots is dated after 450 A.D when Christian influence on the Celtic civilization began to take hold. The designs can be seen in a variety of early Christian artwork and manuscripts with the addition of plants, humans and even animals in the art.
Yet some historians believe the origins of Celtic knots could be dated right back to 500 B.C although there appears to be scant evidence to back up that assertion. What we do know is that knot designs were used as early as the third century A.D and can be seen on Roman floor mosaics.
The ARTTURI™ Premium Silvertip Badger Knot

Found only around the neck area of the badger, Silvertip is the rarest and highest grade of badger hair. There is often a bit of confusion regarding the many authentic grades of badger hair. Some companies come up with their own name, or disguise lower grade badger hair, with prefixes such as; High, Purest, or Mixed or Super Pure. Silvertip hair is almost always sorted and graded by hand. This is based on very specific characteristics of softness and coloring. Unlike other grades, Silvertip has the most distinctive black and white banding, along with the softest most luxurious natural tip.

At ARTTURI™, our tips are never color treated, but left in their distinctive natural white to off-white color.  All badger knots in general, will create the best quality lathering characteristic, apart from horse, boar and other animals. Badger has the capability to produce a rich and dense lather, primarily due to the water absorbent capability, and balance of air, water and soap infusion between the hairs. The Silvertip knot has a very distinctive feel against your skin, some describe as velvety, with the best control, allowing lather to carry evenly throughout the entire application, quickly. There may be other "grades", self designating as better quality, such as "High Manchurian" or Super Silvertip etc…don't get confused. Silvertip is the highest grade on the animal itself, and the industry recognized king of shave knots. 

The value for the dramatic increase in price for Silvertip, is often debatable. Silvertip is remarkably more 'velvety' over the face, vice  Pure Badger, which is firmer and a bit more coarse. Best Badger tends to shed water more than Silvertip, which allows a faster dry time, for our travel brush. That characteristic is a factor when designing travel brush.  The exfoliating properties actually derive from the different animals, rather than different grades. You will see a slight difference between a Pure and Silvertip knot. Lower qualities have less flexibility that leads to hair breakage and fall off.

ARTTURI™ will always guarantee the authenticity and quality of our products, especially the shave knot. Our brushes are recognized as the finest shave knot available in the world.  

Use and Care
Our knots are handmade, with more hair density, in comparison to our high end competitors. The additional hair creates greater brush fullness, and lather retention. We recommend rinsing and drying properly so the hairs don't become susceptible to additional damage and drop. ARTTURI™ recommends caring for the Silvertip knot just like you would all your fine shaving supplies.  Allow the brush to air dry, hair down, allowing water to drip off, thus realign naturally, and fluff back up. This hang and dry technique prevents the brush from typical bathroom damage such as sitting in a pool of water which creates rot.  A good rule of thumb: About one bristle will be lost each shave. So, the larger the base, the longer it lasts. ARTTURI™knots are a meaty 27mm, with a 67mm loft, the ideal size for premium performance.  ARTTURI™ will warranty your brush for the life of the knot; usually 12-20 years, although some have lasted 40 or more.

ARTTURI™ is a popular choice for men who demand
the finest quality
in the world. 
HEIGHT: 62.7mm
BASE: 32.5mm
WEIGHT: 2.5/oz