Shave Brush Stand Triple Purpose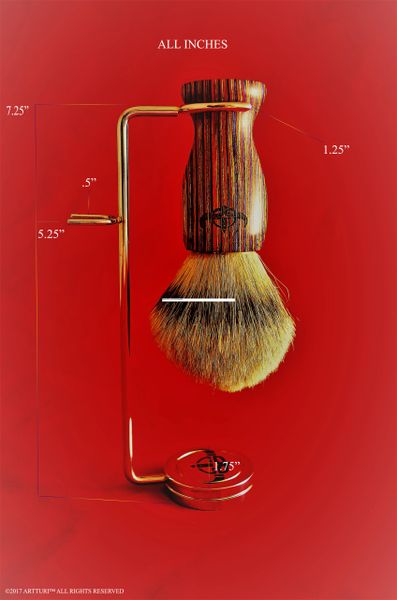 This is the ARTTURI stainless steel Triple Purpose Stand. Standing at 7.25 inches, this can hold your brush off the base and off the top of your shave bowl also. It can accommodate shave handles up to 1.25 at any point on the stem. To keep it all together and neat in the bathroom, there is a place for your straight edge, safety razor or standard of the shelf commercial razor, with a 1/2 inch welded "hang it" attachment*.  A temporary logo is on the top base as a reminder who made this beauty. The logo will eventually wear off, especially if you place your shave bowl on top of the base.

* We designed it around 8 of the most common razors, straight edges and safety razors. Counter balance may be needed if your razor is too heavy or light.
HEIGHT: 7.25"
BASE: 1.75"
HEIGHT TO RAZOR "HANG IT": 5.25"