Sterling Silver Blue Topaz & Chalcedony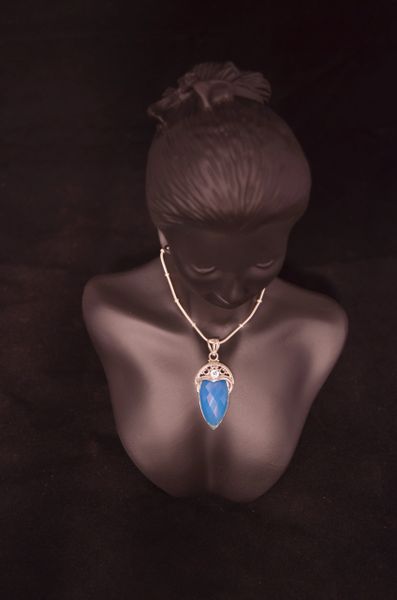 FATHER'S DAY AND INVENTORY REDUCTION SALE BLOW OUT - BELOW COST!

Beautiful Blue Topaz and Chalcedony set in sterling silver with optional chain.

Chalcedony is a nurturing stone that promotes brotherhood and good will.  It absorbs negative energy.  It brings the mind, body, emotions and spirit into harmony.  Chalcedony instills feelings of benevolence and generosity.  It alleviates hostility and transforms melancholy into joy.  Eases self-doubt.  Creates openness and enthusiasm.  Absorbs and dissipates negative thoughts, emotions and bad dreams.
Blue Topaz is a stone that is often used in jewelry. Topaz comes from a range of different places, including India, Pakistan, Sri Lanka, South Africa, Japan, Australia, Mexico and the USA. We globally source.

Blue Topaz stones will heighten your ability to communicate better, and to express yourself in a meaningful way, both when speaking or when writing.
It is a helpful stone if you have been having difficulties with public speaking. It may also assist you to think better and to concentrate on the task undertaken.
It will also help you to decide what type of employment you wish to be in, and has a vibration that allows you to make clearer and more specific decisions about the direction you wish to take your life.
It aids you to discuss your life path with those dearest to you, as it helps you to clearly express your hopes and wishes. It will help you to speak clearly and to communicate what comes through from spirit, in a manner that others can clearly understand.
4.6cm x 2.1cm