Silver Tip Badger Hair Shave Brush Macassar Burl Wood (Limited Edition)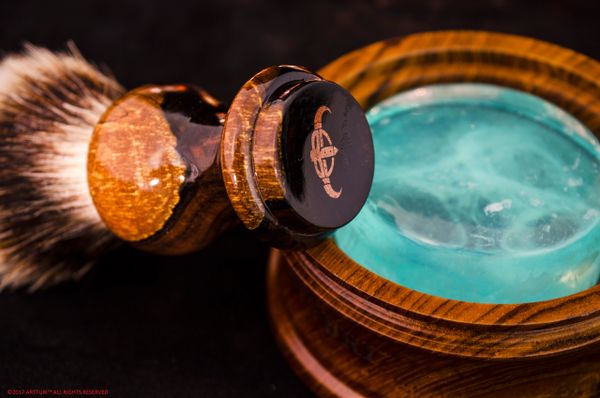 We bring you our limited edition Burl Wood Macassar stem silver tip premium badger hair brush. Beautifully milled with Danish oil and a high gloss finish for years of shaving durability. Only 4 were made, designated as B1, B2, B3, and B4. Each has unique characteristics and is appraised accordingly.

The ARTTURI namesake is presented to you as copper inlay at the end cap, covered by a 2mm clear epoxy fill. The badger knot is a luxurious 27mm at the base, 40% larger than most brushes for greater lathering capability and longevity. It is also has a 67mm plume/loft from the base of the knot to the tip that gives a exfoliating property from every bristle. These are premium properties reasonably priced.  As with all Premium and Signature Series brushes, our 27/67mm, premium silver tip badger knot, is anything but standard. 

Macassar is an extremely expensive wood, and the Burl Macassar we happened to find, virtually non-existant. Located and grown primarily in Southeast Asia, with very limited natural habitat, it's highly desired for the wood's aesthetic appeal and toughness. At ARTTURI, we make sure to buy from sustainable farms, and only select the top grade hearts for our brushes. This selection was presented to us and we just couldn't resist! We limited the inlay applications and designs to allow the beauty of the wood to speak for itself. As with all Signature Series Brushes, we back them 100% for the typical life of your shave knot approximately 10-15 years.

The tri-image is the brush, turned 1/3 at each take for a full 360 view, adding one end cap photo. Additional pictures are available upon request. BONUS: We add our stainless steel drip stand, cotton/wool/poly polishing storage bag, and The Pen by ARTTURI™,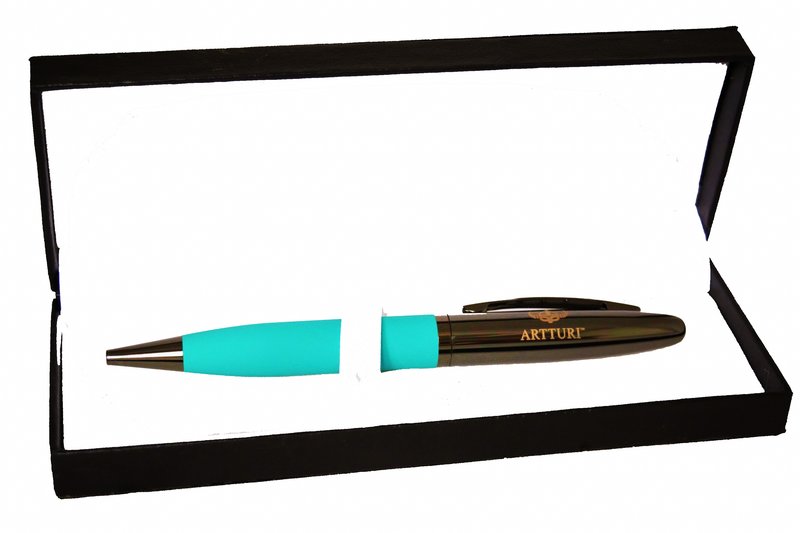 are included complementary with this brush, a $69.00 value for free. 

As always, with ALL  ARTTURI™ products, we pay your shipping.
The ARTTURI™ Premium Silvertip Badger Knot

Found only around the neck area of the badger, Silvertip is the rarest and highest grade of badger hair. There is often a bit of confusion regarding the many authentic grades of badger hair. Some companies come up with their own name, or disguise lower grade badger hair, with prefixes such as; High, Purest, or Mixed or Super Pure. Silvertip hair is almost always sorted and graded by hand. This is based on very specific characteristics of softness and coloring. Unlike other grades, Silvertip has the most distinctive black and white banding, along with the softest most luxurious natural tip.

At ARTTURI™, our tips are never color treated, but left in their distinctive natural white to off-white color.  All badger knots in general, will create the best quality lathering characteristic, apart from horse, boar and other animals. Badger has the capability to produce a rich and dense lather, primarily due to the water absorbent capability, and balance of air, water and soap infusion between the hairs. The Silvertip knot has a very distinctive feel against your skin, some describe as velvety, with the best control, allowing lather to carry evenly throughout the entire application, quickly. There may be other "grades", self designating as better quality, such as "High Manchurian" or Super Silvertip etc…don't get confused. Silvertip is the highest grade on the animal itself, and the industry recognized king of shave knots. 

The value for the dramatic increase in price for Silvertip, is often debatable. Silvertip is remarkably more 'velvety' over the face, vice  Pure Badger, which is firmer and a bit more coarse. Best Badger tends to shed water more than Silvertip, which allows a faster dry time, for our travel brush. That characteristic is a factor when designing travel brush.  The exfoliating properties actually derive from the different animals, rather than different grades. You will see a slight difference between a Pure and Silvertip knot. Lower qualities have less flexibility that leads to hair breakage and fall off.

ARTTURI™ will always guarantee the authenticity and quality of our products, especially the shave knot. Our brushes are recognized as the finest shave knot available in the world.  

Use and Care
Our knots are handmade, with more hair density, in comparison to our high end competitors. The additional hair creates greater brush fullness, and lather retention. We recommend rinsing and drying properly so the hairs don't become susceptible to additional damage and drop. ARTTURI™ recommends caring for the Silvertip knot just like you would all your fine shaving supplies.  Allow the brush to air dry, hair down, allowing water to drip off, thus realign naturally, and fluff back up. This hang and dry technique prevents the brush from typical bathroom damage such as sitting in a pool of water which creates rot.  A good rule of thumb: About one bristle will be lost each shave. So, the larger the base, the longer it lasts. ARTTURI™knots are a meaty 27mm, with a 67mm loft, the ideal size for premium performance.  ARTTURI™ will warranty your brush for the life of the knot; usually 12-20 years, although some have lasted 40 or more.

ARTTURI™ is a popular choice for men who demand
the finest quality
in the world.
HEIGHT: 62.6mm
BASE: 31.00mm
WEIGHT: 2.2/oz